Modeling Articles
Model Building Tutorials
Sprue Examiner Articles
Below are links to some feature articles from past issues of the "Sprue Examiner", the monthly newsletter of the ASMS. ASMS members receive the newsletter by email as part of their annual dues.
---
More Modeling Articles...
---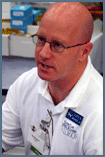 Building models since the age of 7, Floyd didn't start serious model building until 1988 when he joined the Ft. Hood IPMS chapter. After learning how to fill seams and how to work an airbrush, he quickly became known for his Luftwaffe aircraft, especially his Bf-109s. He retired from the Army after 21 years of flying Cobras and Kiowa Warriors, including tours in Iraq, Bosnia, Korea, and Germany. He currently flies helicopters for a living with the Police Department in Baltimore, where he lives with his wife and three daughters.

Click here to see photos of Floyd's work.
Floyd has written numerous articles for FineScale Modeler, The IPMS Journal and many local IPMS magazines as well as various web sites, including Hyperscale. Listed below are a few of the articles and reviews he has written reprinted here with his permission.
---